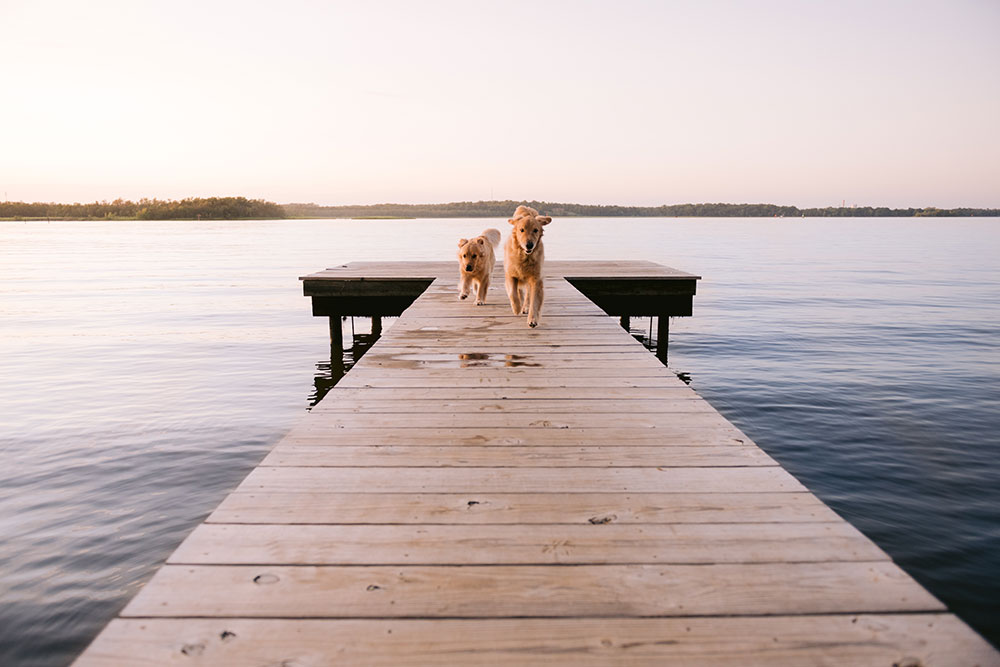 It seems like every family has a fur baby or two these days — and you can never have enough pictures of the family. Pets, especially active dogs, make getting great shots a real challenge. That's why we asked lifestyle photographer and fur mama, Samantha Brooke, how she gets such compelling pet photos.
First Things First
How to get your dog to look at the camera: "Use high value treats and toys (especially squeaky ones!) above your lens. Also use 'trigger words' they respond to like 'grandma, grandpa, eat, squirrel' etc…"
The trick to real connectedness in photos like the one above involves using what you know about your pet to get them to respond to you. Samantha says the key thing about dogs is that they come from a place of love. "I find [photographing dogs} easy because [they] have a universal language: love. Love comes in many forms: safety, being caring, food (!), toys, and using a variety of obnoxious noises to engage their attention."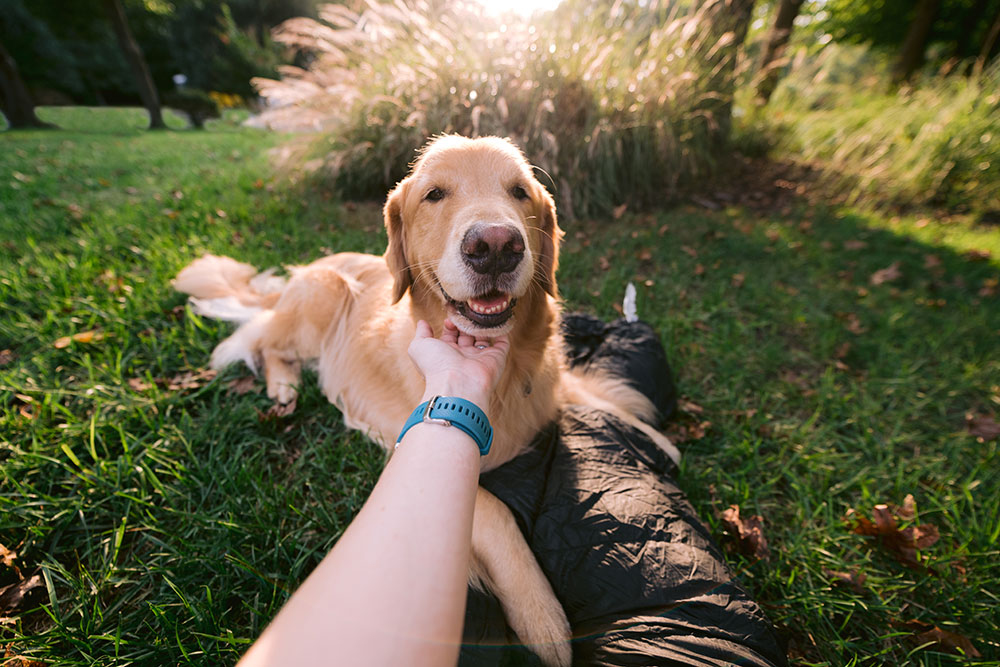 Divide and Conquer
Minimize distractions. Except when that makes the perfect shot: The fewer people around, the better, and ideally, there wouldn't be any other dogs in the area. This helps your dog focus on, listen to, and interact with you. If you have more than one pet, it's a good idea to separate them.
As for location, Samantha finds that shoots involving water or restaurants can be a "too much of a 'shiny object'" for her dogs, and their willingness to cooperate and attention spans diminish. That said, great shots can still happen. "These are also the times when I can get a very authentic shot like Koa drooling at the sight of pizza."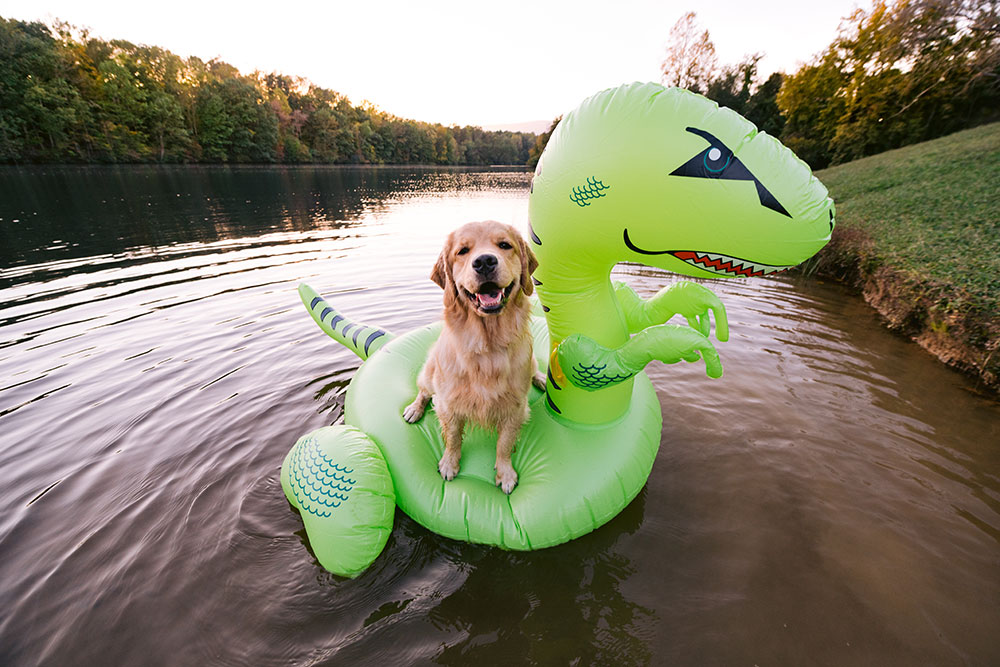 Planning vs. Spontaneity
"Back in 2015/2016 when pool floats became more popular, I thought 'why not put my dog on a float in a picturesque setting outdoors?' I set out with Aspen to emulate Taylor Swift on a swan float (but on a lake surrounded by mountains) and from there, I made it an annual 'float' tradition to capture my dogs on floats in different locations. On the other hand, dogs and toddlers are very unpredictable so half of the time I set out with a general goal and hope for the best!"
It's always great to have a plan, but just know that things might not work out. "Unplanned" photos during a "planned" shoot can end up being the most interesting ones.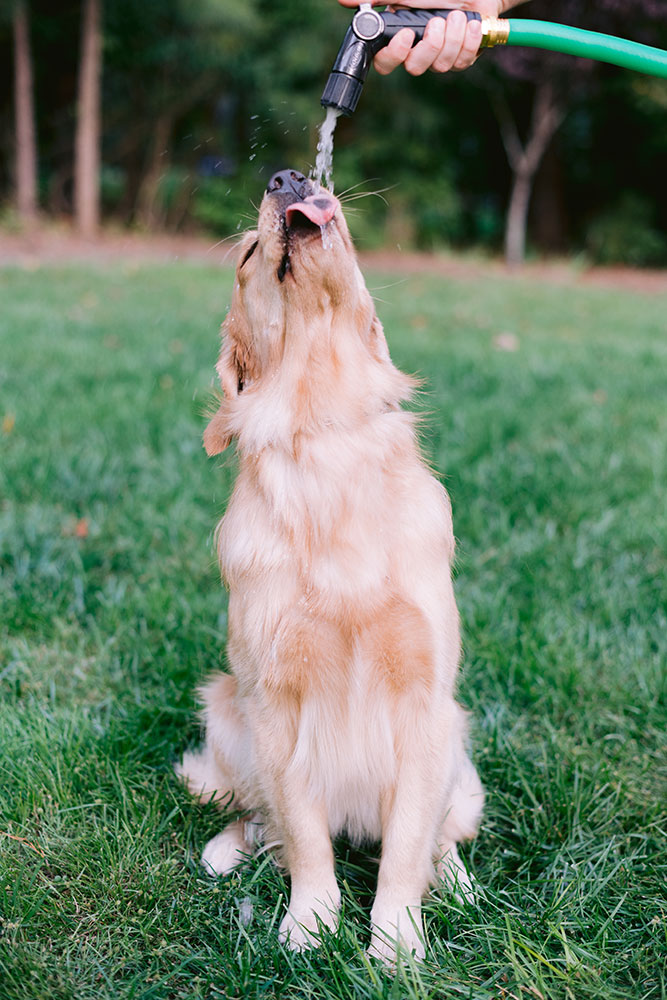 Finding Your Audience
"It's funny in that I never thought sharing pictures of Aspen in a kayak would lead to a "niche" in dog (with family!) photography. Social media, specifically Instagram, allowed me to speak to a specific audience: dog lovers. Since my social media presence focuses on pets, people wanted me to take pictures of their families including their pets. As I built my portfolio and shared more of my dogs on social media, my business grew."
Use the social media platforms at your fingertips to help grow your business. Putting your work out there is the most important thing. Like Samantha, you might be surprised at the turn your work takes.
---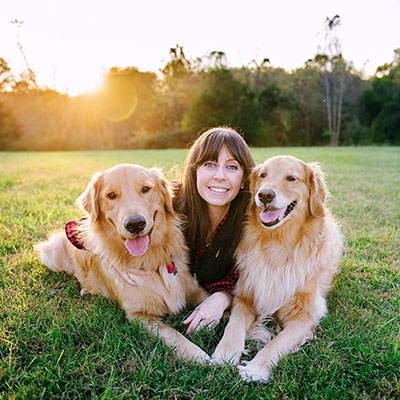 Samantha Brooke is a lifestyle photographer and fur mama to Aspen (in heaven), Koa, and Lily. She started focusing on lifestyle and pet photography when she could no longer bribe her husband to model for photography practice; she quickly learned that her first golden, Aspen, would work for food. Now with her family and two goldens, she captures pet-friendly adventures as well as lifestyle photos. She strives for images full of emotion, whether it's a belly clenching laugh, screaming toddler, or ears flopping in the wind. Life happens between the posed images, and that's what she wants her work to reflect.
---