The world has changed, at least for the moment. So, how do you continue creating and making things in this restrictive environment? We asked travel photographer, Sam Stone, how he's been able to make such hauntingly beautiful photos during this time — since the farthest reaches of his travels are now the four corners of his neighborhood on Long Island. His approach to the lockdown is a great template for all creatives.
Look at the World Through New Eyes
"When you are in a new place, you are truly a stranger. I still wanted to take photos every day, but I really had to get out of the trap in my head that I needed to be somewhere different to make beautiful images." — Sam Stone
Sure, we are limited to how far we can roam right now, but that doesn't mean there isn't a lot to see. Behind all the things we are familiar with is another world we haven't looked at before.
Slow Down
"I stopped driving and started riding my bike a lot more. Being able to be still and view [things] from a stationary perspective is so much different. There is so much detail in the banality of a gas station for example, a lot of things speak to you when you prioritize time and slowness."
You probably have more time than you have ever had before to just stop and examine your surroundings. Take advantage of it — you'll be surprised at what you discover.
Seek Out Others
"Photographers that I love in no particular order are: Fred Herzog, Saul Leiter, Lee Friedlander, Gordon Parks, Daido Moriyama, Elliot Erwitt, Paul Strand, Garry Winogrand, Fan Ho, Vivian Maier, Stephen Shore, and William Eggleston. I think my closest source of inspiration are the people that I've met while I've lived here. I could go on and on about my friends, they inspire me every single day."
From the artists who first influenced you to friends who are doing interesting things, take some of this time you have on your hands to revisit their work.
Do Something Creative Daily
"I try to take photographs every day; and always have a camera with me everywhere."
Make being creative a daily priority. Even small things, like a trip to the grocery store or watching the world through your window for 20 minutes can spark your creativity.
Remember, You're Living in a Real Historical Moment
"It doesn't seem meaningful to us now, but just as we look back on photos taken 20, 30, or 100 years ago, eventually this reality will become foreign. I want to be able to represent as many aspects of reality I can, and hopefully give people a glimpse into what the world was like for us."
The things you create during this time have an historical significance beyond just what they are as creative pieces. This makes it all the more important for you to do you work now, even if it is more difficult.
A Parting Thought
"Feeling trapped and uninspired is temporary, it's possible to become who you want to be — the choice is up you."
---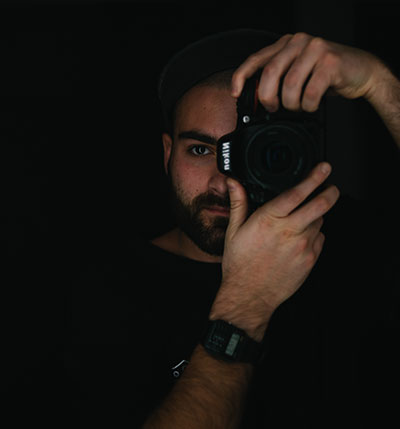 Sam Stone is an American photographer based in New York. Best known for documentary and street photography, his images focus on quietness, nostalgia, and communication as central thematic elements. Sam has been featured in several publications such as Booooooom and GUP Magazine. He has also also exhibited in several solo and group shows at galleries in Moscow and New York City.
---